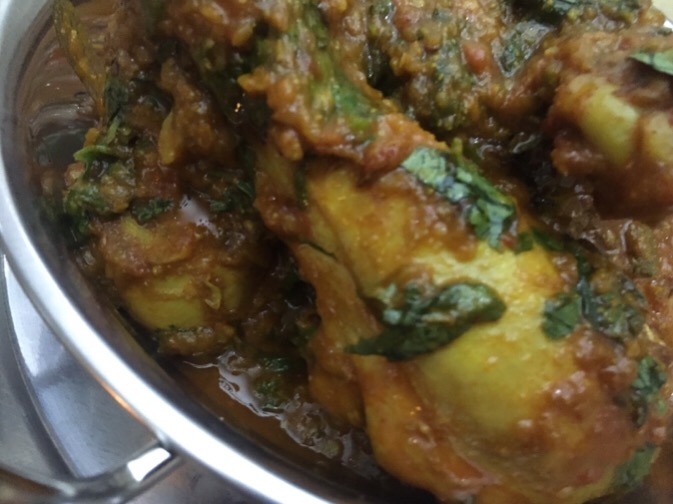 Chicken curry (tariwala chicken)

By Sukhi Singh
March 16, 2016
Tariwala chicken is not seen on restaurant menus very often, but it is the highlight in an Indian's kitchen and we grew up eating it.
I learnt the recipe from my dad, who was a master at making this dish. In fact, I have fond memories of him cooking a huge batch whenever he'd host a drinks party with his friends, where they would all eat bowls full of it whilst drinking whisky.
The dish worked well then and it most certainly holds its magical appeal today, although my version uses ingredients you tend to have in your pantry as whole spices weren't readily available when my parents first moved to England.
So give my chicken curry a try – you just might end up creating some happy memories of your own.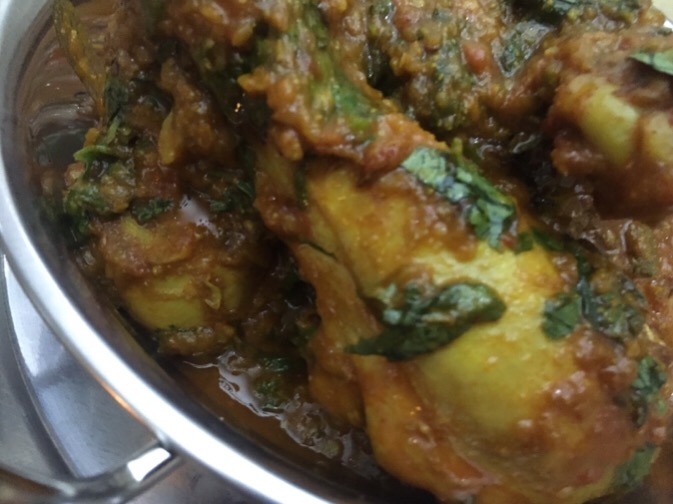 Directions
1Heat the oil on a medium-high heat in a large saucepan, then add the cumin seeds and let them sizzle. As soon as you smell the sweet aroma of cumin, add the onions and salt. Cook the onions for 8-10 minutes until they've caramelised and turned a deep shade of brown.
2Add the ginger and garlic and cook for a couple of minutes, stirring continuously as the fibrous ginger trends to stick to the bottom of the pan. Follow with cumin powder, coriander powder, Kashmiri chilli powder and turmeric then cook for around 1 minute. You need to let the spices cook to release their oils, so please make sure you stir all the time to ensure the spices don't burn.
3Add your tin of tomatoes and cook for 3-4 minutes so the tomatoes can break down and excess water evaporate. Add 250ml of hot water and reduce the mixture again, this should take 5 minutes. It sounds weird, but it will really helps develop the flavours in your gravy.
4Score your chicken drumsticks with 2-3 cuts to allow the masala gravy to penetrate the meat and help it cook more quickly. Add the the drumsticks to the masala and coat the chicken with the thick, luxurious masala. Cook for around 5 minutes, by which point the chicken will have start ed releasing its own juices and making its own gravy.
5Add 500ml of hot water from the kettle and stir thoroughly, scraping down the sides of the pan to remove any caramelised masala residue. Put a lid on the pan, reduce the heat to medium and cook for 20 minutes, stirring every 3-4 minutes.
6Take the lid off and increase the heat to medium-high and cook for a further 5 minutes to allow the grave to reach the perfect consistency.
7 Sprinkle and stir in the coriander and garam masala, then serve with pilau rice, naan or roti.
Ingredients
2 tbsp coarsely minced fresh garlic
2 tbsp coarsely minced fresh ginger
1 1/2 tsp Kashmiri chilli powder
750 ml hot water from the kettle
4 tbsp chopped fresh coriander
3 Reviews