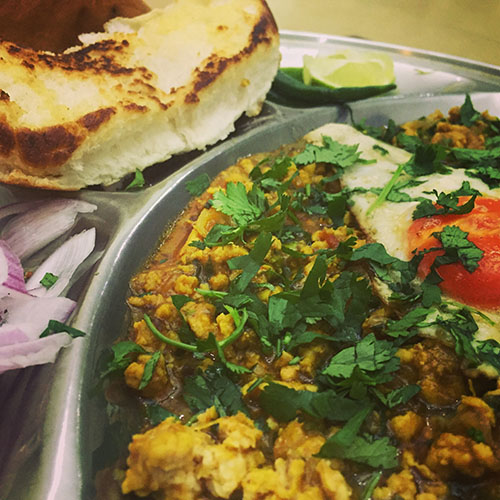 Chicken keema pav (street food)

By Sukhi Singh
February 10, 2016
If you love a vegetarian pav bhaji you will most certainly love keema Pav the meaty sibling to the vegetarian version. Buttery, warm soft bread dipped in a spicy minced chicken masala. The bread absorbs the juices from the chicken masala as you scoop the spicy chicken, topped with finely sliced red onions, a bite of a fresh green chilli and generous squeeze of fresh lime. Did i die and go to heaven or is this heaven on earth?
There are numerous flavours when eating keema pav bhaji, the spices, the heat from the chilli, the sourness from the lime, the earthy flavour of corainder, the freshness from the mint to name a few.
Sometimes i cook a sunny side egg and dip the bread in the yolk to add more richness. I have alway indulged and the fried or poached egg addition just allows me to eat the keema pav bhaji for breakfast as well as lunch or dinner.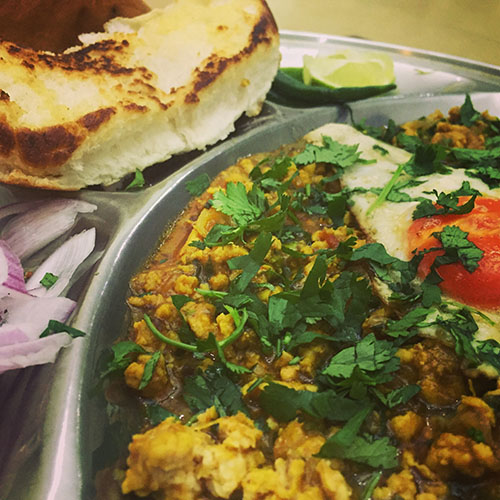 Directions
1Add the oil to a large sauce pan on a medium/high heat. Add the cumin seeds let them sizzle for 15 seconds. Add the ginger garlic and cook for 1 minute stirring continuously.
2Add the red onions and cook until they become caramelised. This should take around 10-12 minutes.
3Reduce the heat to low and add cumin powder, coriander powder, Kashmiri chilli powder, turmeric and salt. Mix the spices throughly with the caramelised onions for 1-2 minutes.
4Add the minced chicken and mix it all well. Increase the heat to medium/high again and keep stirring until the chicken cooks and starts to brown slightly on the edges. This should take 12-14 minutes.
5Add the chicken stock and simmer for 5 minutes on a low heat.
6Add the garam masala, fresh mint, fresh coriander, tomatoes, spring onions, lime juice, mix well and remove from the heat.
7Heat a frying pan on medium heat and add the butter and let it melt.
8Split the bread rolls into half, like a sandwich and when the butter starts to froth add the bread rolls moving them around to absorb the butter and flip over and do this on the other side. Keep flipping the bread until it starts turning a golden brown colour. Serve immediately with a bowl of keema masala, finely sliced onions, whole green chillies and wedges of lime.
Ingredients
2 tbsp Fresh ginger and garlic coarsely chopped
2 Fresh tomatoes finely chopped
2 tbsp Fresh mint finely chopped
2 tbsp Fresh coriander finely chopped
3 Reviews