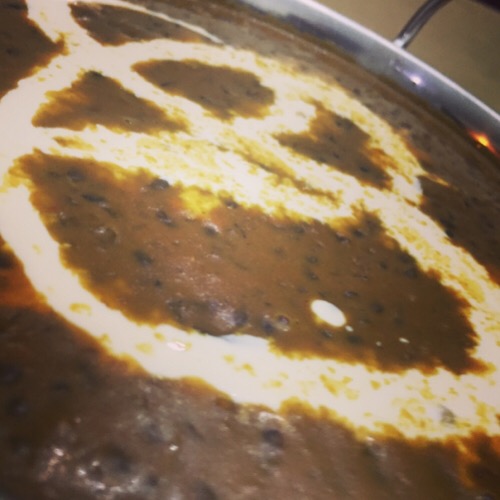 Dal makhani (buttery lentils)

By Sukhi Singh
March 9, 2016
Dal makhani the opulent relative of simple dal. It comes from Punjab, which is situated in northern India. You'll find hundred's of variations of dal makhani, some have cream, some with butter, some with both and the tarka made differently. I really enjoy my version as it reminds me of the roadside cafes (dhaba) we used to visit on our long drives from Delhi to Punjab. Dal is full of protein, fibre and a favoured dish of vegetarians when out for dinner. The lentils are delicious and buttery with a slight kick from the Kashmiri chilli, scooped up in hot roti or naan, it's a pure treat.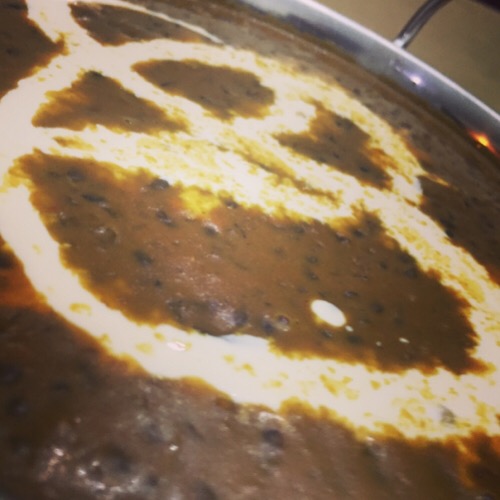 Directions
1Rinse the lentils under a running tap until the water starts to run clear.
2Place the washed lentils in a large sauce pan, add the salt and two litres of water. Place the pan on a medium/high heat, cover with a lid and let it cook for 45 minutes.
3Reduce the heat to medium/low, add the turmeric and stir the lentils frequently. Allow the lentils to cook for a further 15 minutes covered with a lid.
4Add a further 2.5 litres of hot water from the kettle and cook the lentils for a further 50 minutes on a medium heat, cover with a lid, again stirring frequently. The lentils will break down and resemble a thick soup like consistency.
5Whilst the lentils are cooking, in a medium sized saucepan add the butter and oil and heat on a medium heat. Once the butter has melted add the onions and cook until they're golden brown. This should take around 10 minutes. Keep stirring as it's difficult to see the onions in the foamy butter.
6Add the ginger and garlic and mix for a further 2 minutes.
7Add the Kashmiri chilli powder and stir for one minute and remove from the heat.
8Once the dal is cooked, reduce the heat to low and stir in all the tarka. Stir it well.
9Add the double cream and stir. Let it simmer on a low heat for 2-3 minutes. Drizzle with a little cream for garnishing. Serve with hot fluffy naan, roti or boiled basmati rice.
0 Reviews