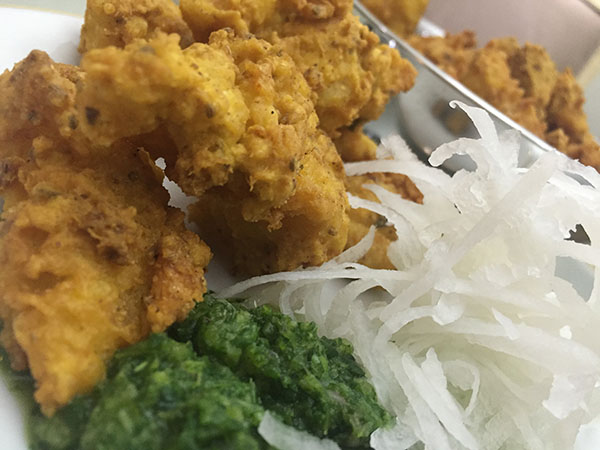 Fish pakora

By Sukhi Singh
January 27, 2016
The name fish pakora instantaneously takes me down memory lane. It first started from our frequent holidays in India. My dad or my many uncles would take us to one particular place in Gobindgarh market in Punjab. We would devour platefuls of fish pakora's and visit frequently whilst on holiday. As I grew older and passion for cooking started kicking in I started experimenting with fish pakora's, firstly with Madhur Jaffery's Flavour's of India and later combining the flavours of Gobindgarh market and making the perfect fish pakora.
As peek season beings in the Indian wedding calendar you tend to be eating soggy fish pakora's at every function, hence i felt the need to share this recipe so you can do justice to your taste buds.
It's a labour of love with this recipe, two marinades, frying it twice but trust me the result is well worth it. Your opinion on fish pakora's will change for the better. A must try recipe!!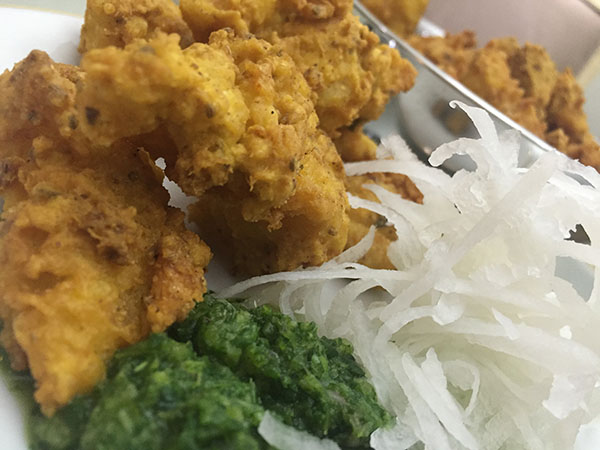 Directions
1Cut the cod into 1 inch pieces and place in a mixing bowl.
2In a different bowl add the salt, white vinegar and mix until the salt dissolves into the vinegar.
3Pour this mixture over the fish and mix well. Let the fish marinade in this mixture for 30 minutes by covering and placing in the refrigerator.
4After 30 minutes remove the fish from the milky residue, gently squeeze the fish to extract moisture, pat it dry with kitchen paper and place into a fresh mixing bowl.
5Add the ginger, garlic, chilli, carom seeds, turmeric, garam masala and mix well. Mix gently as fish can be fragile and you don't want your fish pakora's to look like they've been in a boxing match with Amir Khan.
6Refrigerate this marinade for a further 30 minutes so all the spices can penetrate the fish.
7After the second marinade add the chick pea flour and coat all the fish by mixing well. Add the the water and mix again, ensuring all the fish is coated evenly.
8Heat the oil to 170 degrees Celsius. Fry the fish for for 3 minutes. Fry in small batches and don't over crowd the deep fat fryer. Try and not touch the fish as you don't want to loosen the batter.
9Remove the fish after 3 minutes with a slotted spoon, separate the fish into individual pieces if needed and place on kitchen paper to drain the excess oil. Fry all the fish in 2-3 batches.
10Increase the temperature of your deep fat fryer to 185 degree Celsius. Fry the fish for a second time for a further 3 minutes. The fish pakora's will turn a deep golden colour. Remove the fish with a slotted spoon and place on kitchen paper to drain the excess oil. Fry all the fish in 2-3 batches.
11Sprinkle with chaat masala, serve immediately with fresh mint chutney and grated white radish.
0 Reviews